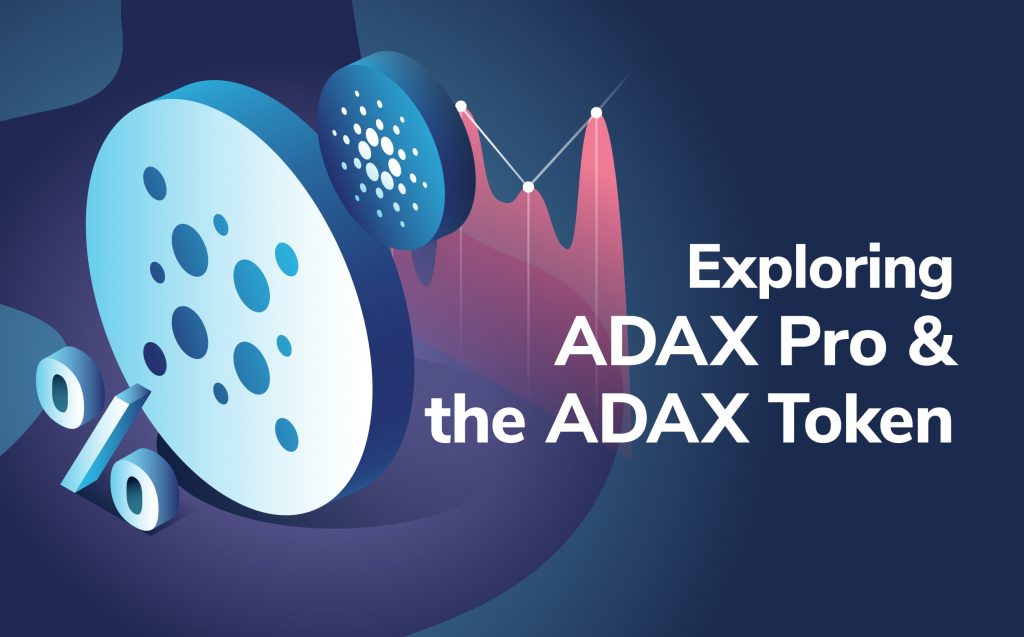 ADAX Pro is a decentralized exchange (DEX) built on Cardano, operating with the native ADAX token. The ADAX DEX is a non-custodial exchange that uses automated market makers (AMMs) and liquidity pools in place of traditional order books. The platform boasts various features, including stable liquidity pools, token swaps, an ERC-20 token converter, staking, and much more!
In this article, we're going to dive deep into the ADAX Pro platform. Also, we'll explore the ADAX token and the ADAX DEX. Plus, we'll discuss the Cardano network and find out why it is about to create waves in the decentralized finance (DeFi) landscape!
For expert tutorials on the fundamentals of blockchain technology, see our Blockchain & Bitcoin 101 course at Ivan on Tech Academy! The course explains block by block how this cutting-edge technology operates and is revolutionizing the traditional finance industry. Moreover, we break down UTXOs, Bitcoin mining, consensus mechanisms, different types of forks, and much more! Then, see our Bitcoin Monetary Revolution course to learn about the history and evolution of money and currency!
Also, our Ethereum 101 course is a great option to discover the history of decentralized applications (dApps) and how the Ethereum Virtual Machine (EVM) operates. Plus, we teach you the core differences between the two most prominent blockchains, Ethereum and Bitcoin. Regardless of your age, background, or level of experience, our courses cater to many different learning styles. Start your crypto journey the right way at Ivan on Tech Academy today!
What is ADAX?
ADAX Pro is a next-generation non-custodial decentralized exchange (DEX) and liquidity protocol that enables trading throughout the Cardano ecosystem. The ADAX Pro platform facilitates frictionless token swaps within the Cardano ecosystem without intermediaries. Furthermore, the ADAX DEX uses the Cardano Ethereum bridge to allow users to 'translate' ERC-20 tokens into Cardano-compatible tokens of the same value and vice versa. This makes cross-chain token swaps simple, allowing users to migrate assets between blockchains effortlessly.
As a non-custodial exchange, users of the ADAX DEX are in full control of their assets. Unlike with centralized crypto exchanges, users hold their own private keys, and funds are resistant to censorship.
Instead of using order books, the ADAX DEX uses an automated market maker (AMM) model similar to that of Uniswap. Furthermore, ADAX aims to become the Uniswap of the Cardano network by providing the best user experience (UX) and most robust decentralized exchange (DEX) protocol on Cardano. Moreover, ADAX Pro serves to coincide with the latest developments and smart contract functionalities of the Cardano network.
The ADAX Token
The ADAX token (ADAX) initial exchange offering (IEO) took place in June 2021 on the ExMarkets.com crypto crowdfunding platform. The ExMarkets.com crypto launchpad is among the first crypto exchanges to support Cardano-native tokens.
The current circulating supply of ADAX tokens is 52.4 million, out of a maximum of 100 million, according to CoinGecko. Of the ADAX token distribution, there will be a 40% allocation set aside for public distribution. The ADAX team will receive a 10% allocation. A further 10% allocation will go to liquidity, with 15% reserved for staking and 25% for the ADAX Treasury.
ADAX DEX
The ADAX decentralized exchange (DEX) uses an automated market maker (AMM) model. Many order book-based DEXs use off-chain order matching with on-chain settlements. Rather than using order books to match buyers with sellers, users of the ADAX DEX can interact directly with smart contracts to execute trades. This has several advantages over order book models. For example, many DEXs with low liquidity and transaction volumes can provide a poor user experience (UX) and create high price slippage when large orders are placed. Also, many of today's liquidity pools pose an increased risk of impermanent loss.
However, the ADAX DEX uses an automated market maker (AMM) model similar to that of Uniswap. Instead of matching buyers with sellers using order books, traders can interact directly with smart contracts. The liquidity provision for these smart contracts comes from stable liquidity pools. These pools use decentralized pricing mechanisms to even out order book depth.
To learn how to make the most out of decentralized finance (DeFi), check out the DeFi 101 course at Ivan on Tech Academy! This course teaches you how to install and navigate the number one Web3 browser wallet, MetaMask. Also, students learn how to use this to interact with popular DeFi protocols like Aave, Compound, Uniswap, and MakerDAO!
Then, our DeFi 201 course is the ideal follow-on to take your DeFi game to the next level. Here, we teach you how to take advantage of crypto arbitrage, flash loans, yield farming, and much more! Ivan on Tech Academy is the ultimate blockchain education suite available online. Join over 30,00 like-minded students with a welcoming community today at Ivan on Tech Academy!
Cardano ERC-20 Converter
The Cardano ERC-20 converter tool facilitates the migration of tokens from the Ethereum network to the Cardano network. Using just a few clicks, tokens can 'translate' into a Cardano-native token with two-way convertibility. Once converted, these tokens retain the same value as their previous ERC-20 standard and work in very much the same way.
Furthermore, the Cardano ERC-20 converter provides multi-asset interoperability, making it simple to use tokens on multiple blockchains. Plus, tokens that are re-converted for use on Ethereum are first burned on Cardano.
Ethereum is the largest smart contract-enabled blockchain with the most adoption and utility. The Ethereum network is host to a diverse range of decentralized applications (dApps) powered by Ethereum smart contracts that have catalyzed the decentralized finance (DeFi) industry. Furthermore, the Ethereum ERC-20 token standard has revolutionized the blockchain space and is the flagship token standard for many blockchain developers and applications.
However, as the Ethereum network grows, it is becoming slower and gradually more expensive to use. With increasing network congestion and gas fees, Ethereum could become too costly or too slow to use for some, despite the improvements arising with Ethereum 2.0. Cardano aims to address this issue by offering the same ERC-20 token and smart contract functionality with lower costs and higher transaction speeds.
Liquidity Stress
One of the issues that is prominent in liquidity farming and liquidity pools is dynamic fluctuations in ratios. Many liquidity pools incentivize liquidity providers (LPs) to provide liquidity for low-volume assets as it often generates higher returns. However, the risk of impermanent loss is extremely high in pools with low-volume assets.
Stay ahead of the markets with real-time, on-chain data insights. Inform your trades with true market alpha!
For example, providing ETH and USDC or any other stablecoin to a liquidity pool is relatively stable, as only one of the assets fluctuates in price. Furthermore, as ETH has high trading volumes on most platforms, the risk is relatively small. Although this means that LP rewards are somewhat modest compared to other token pairs, this reduces the risk of impermanent loss. Plus, it is much easier to offset any impermanent loss with LP rewards.
Despite this, many LPs find the high returns for providing liquidity to low-volume pools attractive. Timing liquidity provision in accordance with asset price fluctuations and changes in LP rewards can be extremely profitable, but for many, the risks outweigh the potential rewards. The model adopted by ADAX aims to address this issue directly by providing a decentralized pricing mechanism to smooth out order book depth. Furthermore, there are no platform fees. All fees from the ADAX DEX go directly into liquidity pools.
What is Cardano?
In an industry where projects and developers compete to get products to market first, Cardano has been conducting peer-reviewed research for many years. The Cardano blockchain has been around longer than most. Established in 2015 and launched in 2017 by Ethereum co-founder Charles Hoskinson, Cardano has been developing products and services based on evidence-based methods rather than following the latest trends. This is in contrast to the "test in production" ethos that has largely dominated the rapidly expanding decentralized finance (DeFi) space.
However, Cardano has only recently integrated smart contract functionality. In July 2020, the Cardano Shelley update went live after several years of testing and refinement. The Shelley update enabled the Cardano network to become fully decentralized. This update attracted the attention of the broader development community while expanding the network to a more extensive user base.
Following the launch of the Shelley update, the Goguen update will see drastic changes made to the Cardano ecosystem. Among the most widely anticipated is smart contract compatibility. IOHK, the team behind Cardano, has stated that the Alonzo hard fork is scheduled for September 12, 2021. Becoming a smart contract-enabled blockchain opens up a world of opportunities for the Cardano ecosystem. In particular, the ability to create secure, scalable decentralized applications (dApps) that can stand the test of time.
The opportunities this update presents cannot be understated. Despite taking much longer to come to fruition, the Cardano community is ready and waiting to deploy all kinds of dApps on the Cardano blockchain. Among these is the ADAX decentralized exchange (DEX).
Why Use Cardano?
Because the ADAX DEX uses Cardano, it promises to operate using lower fees than exchanges on Ethereum. Plus, the platform will benefit from increased transaction speed and higher throughput.
Ethereum-based decentralized applications (dApps) rely on ETH as a base currency for transaction fees. Though it is the second-largest cryptocurrency by market cap, ETH is still volatile, and the price fluctuates more than traditional stocks or gold, as is the nature of the crypto market. However, when compared to low-cap altcoins, the price of ETH is relatively stable. Therefore, ETH is in high demand as most dApps use Ethereum to host their platforms and require ETH to interact with.
The third-largest cryptocurrency by market cap is Cardano (ADA), which is now firmly establishing itself as a top-five cryptocurrency. The growing Cardano community is vast, diverse, and passionately shows commitment to the project. The price-performance of ADA appears to reflect this in recent months. As such, Cardano appropriately positions itself to be a base currency for a new ecosystem of decentralized finance (DeFi) protocols.
The ADAX Ecosystem Roadmap
Following the ADAX platform launch, public initial exchange offering (IEO), and brand awareness campaign in Q3 of 2021, ADAX is on standby for Cardano smart contracts. This is alongside the continuous development of liquidity and token swap frameworks development.
By Q1 of 2022, the ADAX ecosystem anticipates full cross-chain support following the implementation of the IOHK ERC-20 Bridge. Plus, ADAX will offer a white-label solution to provide bespoke development opportunities to customize applications to meet enterprise needs.
ADAX Pro Summary
Dubbed "the Uniswap of Cardano", ADAX Pro and the ADAX DEX are set to bring DeFi to the Cardano network. By facilitating token swaps, staking, and smooth, deep liquidity, the ADAX DEX positions itself to be the go-to DEX of the Cardano network as soon as it achieves smart contract compatibility in September 2021. Plus, with a team of industry experts with a track record of success, ADAX Pro could be a catalyst in a new wave of Cardano-based DeFi. Moreover, thanks to the Cardano ERC-20 converter, users of the ADAX DEX can seamlessly migrate tokens between blockchains for the ultimate cross-chain DeFi experience!
If you would like an in-depth video tutorial on how to trade cryptocurrencies, removing emotions from trades by using probabilistic outcomes, see our Technical Analysis 101 course at Ivan on Tech Academy! Our expert-led tuition covers essential topics such as candlestick patterns, market trends, and how to use stop losses when trading.
Then, to take your trading game to the next level, see our Algorithmic Trading course! This shows students how to automate their trades by building their own trading bot. As a prerequisite, we suggest students have some prior knowledge of programming. For readers with no coding skills, start with our Javascript Programming for Blockchain Developers course! This course is ideal for beginners to get students up to scratch before completing our more advanced programming courses.
Find your perfect career in crypto with the world's largest provider of online blockchain education, Ivan on Tech Academy! Also, don't forget to follow us on Twitter @Academy_IOT! We'd love to hear your thoughts about the ADAX DEX and the ADAX token!