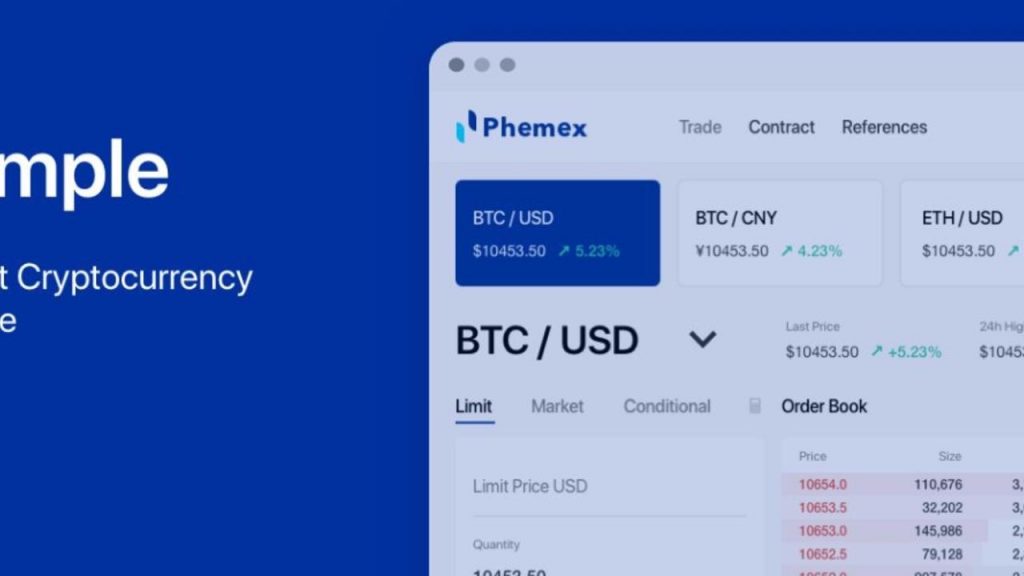 Cryptocurrency derivates exchanges are becoming increasingly popular. However, although traders are familiar with options such as Bybit and BitMEX, one exchange is rapidly making a name for itself. Specifically, Phemex is a new exchange that is gaining tens of thousands of users at breakneck pace. This Phemex review breaks down all the pros and cons of the crypto derivatives exchange.

Crypto derivatives exchange market hotter than ever in 2020
The cryptocurrency derivatives trading industry is currently experiencing a monumental boom. 2019 saw massive growth in virtual currency derivatives trading, with plenty of new options coming entering the market.
In their "2019 Cryptocurrency Derivatives Exchange Industry Annual Report", crypto analytics firm TokenInsight recounts a trade volume increase to a whopping $3 trillion last year. Daily average crypto derivatives trading volume during 2019 was roughly $8.5 billion, which 2020 is already on track to surpass.
Cryptocurrency derivatives and leverage trading allow for more flexibility in a market. As any investor should know, this also comes with more risk than traditional trading. However, the fact remains that traders can make substantial gains from trading crypto derivatives.
This is likely why users are flocking to virtual currency derivatives options. As cryptocurrencies and digital assets achieve a greater rate of adoption, more investors will also begin exploring crypto derivatives trading. Furthermore, there's now more options than ever on the market.
A Nasdaq article suggests this upcoming crypto derivatives boom makes choosing a Bitcoin futures exchange more important than ever. Nevertheless, prospective investors should make sure to compare more exchanges than just giants such as BitMEX, OKEx or Bybit.
What is Phemex?
Phemex is a Singapore-based cryptocurrency margin trading exchange founded in November of 2019. It takes its name from the Greek concept of "Pheme" (Fama), the personification of fame and the voice of the public, combined with MEX (mercantile exchange).
It recently raised $3.5 million in a Series A funding round, led by NGC Ventures. Moreover, this brings the exchange's total funding to date to $5 million at a $50 million valuation. At its core, Phemex says it is bringing institutional-grade derivatives trading to the cryptocurrency industry. With this in mind, Phemex aims to bring the very best of professional institutional Wall Street investing to crypto.

In fact, the Phemex exchange is the brain-child of eight former executives from the American investment bank Morgan Stanley. As such, these bring a wealth of tried and tested Wall Street expertise to the cryptocurrency industry.
Phemex CEO targets 1M users in 2020
Moreover, this approach appears to be working. After launching in November of last year, Phemex now reportedly touts over 100,000 user registrations. This dramatic growth is especially impressive seeing as the Phemex exchange only had roughly 2,000 users at launch.
However, Phemex is still looking to aggressively expand its user-base even further during 2020. In fact, the exchange's co-founder and CEO, Jack Tao, guides one million registered users by the end of 2020.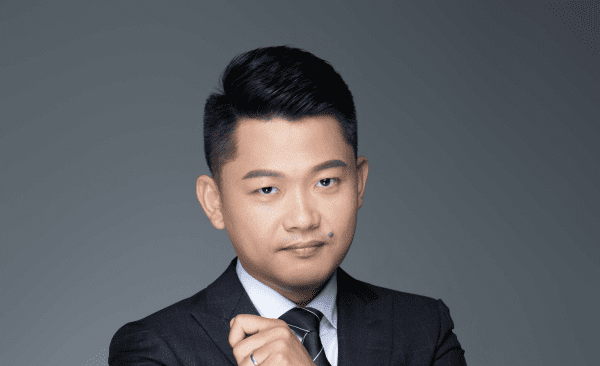 Phemex CEO Jack Tao
As such, the platform is now looking looking into expanding to new markets such as Russia, Japan and South Korea. The Singaporean exchange will use capital from its recent funding round to tap into these markets and fuel further growth.
According to Tao, these countries could drive strong growth through reaching more crypto traders. "We chose the three countries for expansion because there are lots of active traders in these regions, based on our market research," Tao notes.
Phemex exchange features
Moreover, any Phemex review that does not go into detail regarding the exchange's offerings would be incomplete. The platform offers derivatives trading for cryptocurrencies with leverage. Consequently, users can trade with up to 100x leverage.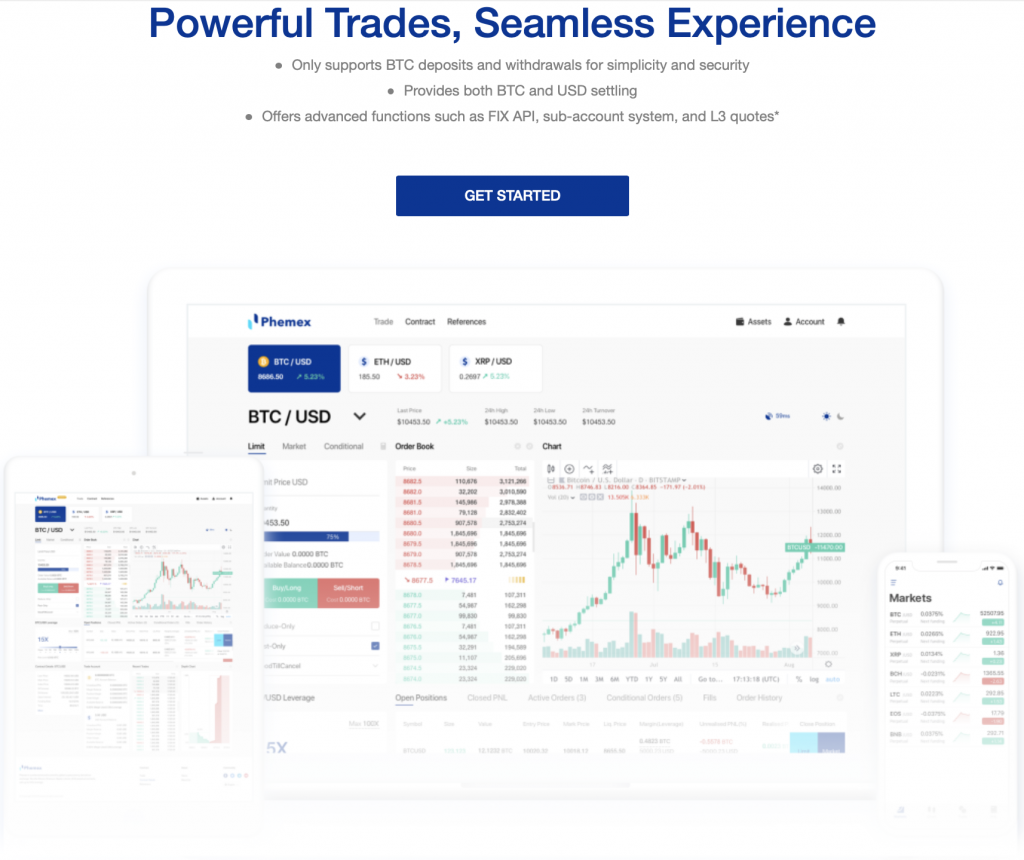 Moreover, exchange also supports up to 300,000 transactions per second (TPS). This allows Phemex to sustain high peak trading volumes without breaking a sweat. Moreover, the exchange also uses a "Hierarchical Deterministic Cold Wallet System" (HDCWS).
The HDCWS assigns an independent deposit address to each of the platform's users, to achieve cold wallet-level security. In addition to this, the exchange also features other advanced functionality, such as L3 market data, sub-accounts and more.
Phemex is also working hard to provide lightning-fast speeds to users. The exchange claims it is "10 times faster than traditional crypto platforms" and touts a latency of merely 1 ms. In fact, Phemex's official Twitter account calls the platform the "fastest cryptocurrency derivatives exchange". To summarize, some of the Phemex exchange's main features are:
Up to 100x margin leverage trading
Hierarchical Deterministic Cold Wallet System (HDCWS)
Support for both BTC and USD settled contracts
300,000 TPS
0.5 USD minimum price increment
Sub-accounts
Native mobile application support
Ability to trade traditional contract (e.g. gold) with crypto
Numerous different order types
What are perpetual futures?
The Phemex exchange offers various different coins and pairs to users. As such, the platform appeals to a wide variety of investors, as it gives many different ways to trade cryptocurrencies. Currently, Phemex offers "perpetual futures contracts" to users.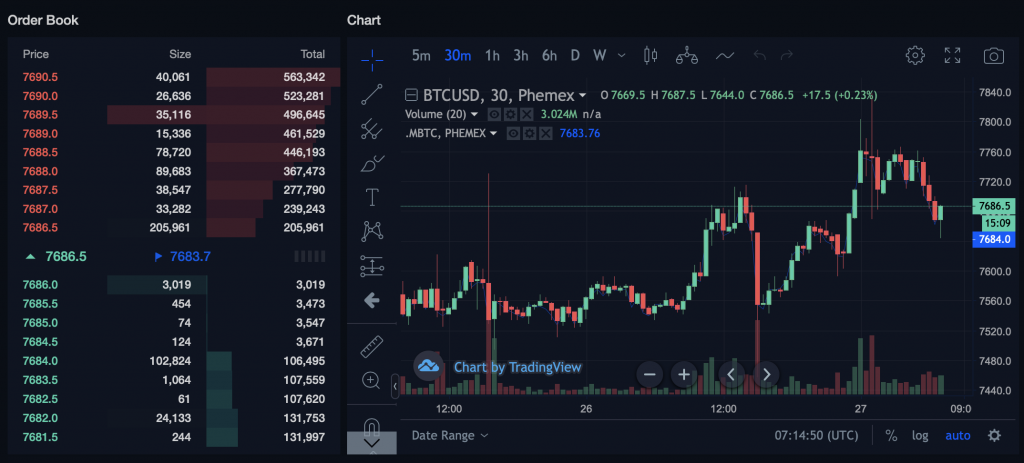 Put simply, a perpetual futures contract consists of an agreement between a willing buyer and seller. This agreement allows an investor to predict the future value of an asset – in this case a cryptocurrency. However, a perpetual future does not require the investor to buy or sell the actual asset directly.
Instead, investors buy or sell this contract for the agreement – the "future" – as a representation of the underlying value. Moreover, a perpetual future never expires, unlike conventional futures. This means that perpetual futures often trade at prices that are similar or equivalent to spot prices on the market.
What coins and pairs does Phemex support?
Bitcoin is the undisputed king of cryptocurrencies, both according to trading volume and market capitalization. As such, it should come as no surprise that the most popular pair on Phemex is a "Bitcoin USD" pair.
Bitcoin USD means the pair trades Bitcoin to its current price in US dollars. Phemex currently trades crypto pairs predominantly to US dollars, which is the most popular option on the market. However, Bitcoin USD is far from the only pairing.
Phemex also offers various other cryptocurrencies pairs, including popular choices such as Ethereum and XRP (Ripple) to USD. However, the exchange also features support for less commonplace cryptocurrencies, such as ChainLink, Litecoin and Tezos.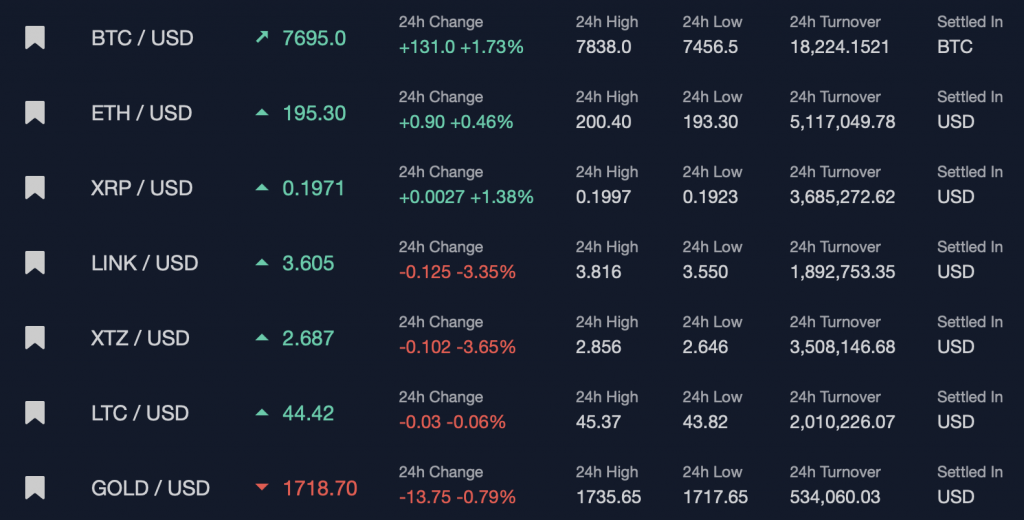 There is no support for crypto-crypto pairs, such as Bitcoin to Ethereum, yet – but this could, of course, change. Something unique that Phemex offers, however, is its gold to USD pair, which allows investors to invest in a gold derivative instrument.
Although most cryptocurrency enthusiasts will stick to investing in "digital gold", having the option of trading gold is nonetheless interesting.
What fees does Phemex charge?
One of the most important parts of any respectable Phemex review is to go over the fees and charges. Doing so allows prospective customers to gauge Phemex's offering and compare it to similar or other crypto derivatives exchanges.
First and foremost, Phemex uses a 0.0075% taker fee and a -0.0025% maker fee (or rebate). These fees apply o all the different trading pairs on the Phemex exchange. As such, Phemex charges a markedly lower trading fee than for example Bitfinex.

Nevertheless, is it not the only fee on the exchange. Rather, Phemex also uses a "dynamic funding fee". This is something that certain different crypto derivatives trading platforms tend to charge, but it could take some time to understand it.
The dynamic funding fee pays out a funding rate directly to the holders of long or short positions. The fee is dynamic in the way that the payout is decided by either a negative or positive funding rate. Phemex charges the rate every eight hours, and this can shift between positive and negative.
Consequently, it becomes possible to either gain or lose money every eight hours. For example, a negative funding rate means that holders of short contracts will pay holders of long contracts a certain percentage of their position. The funding rate decides the percentage of the payout.
Sub-accounts
Although the inclusion of sub-accounts on the Phemex exchange platform might not sound like much, it is a trading tool professional investors often request. Put simply, sub-accounts allow users to easily create separate "sub-accounts" within their main account.
This allows traders to isolate different trading strategies, account balances and permissions. Although the user can transfer balances between the different sub-accounts at will, this creates a valuable separation between different trading approaches. As such, a user can go both long and short at the same time.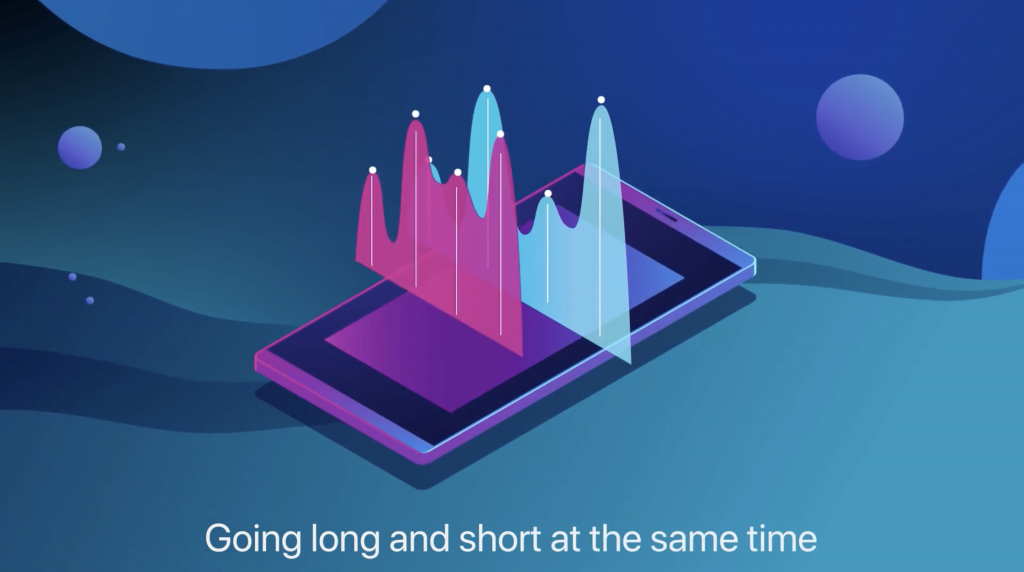 Moreover, it allows a user to have one sub-account with a very aggressive trading strategy, although the user may have a less aggressive one on his main sub-account. The possibilities are practically limitless – as users can diversify not only their holdings, but also their strategies.
Furthermore, being able to test out new trading strategies on a "smaller scale" in a sub-account allows users to attempt riskier trading strategies than they would ideally prefer for their main sub-account. What's more, it's easy to promote this trading strategy to a user's main sub-account if it proves successful.
Take profit orders and stop-losses
Phemex offers relatively unique benefits in that it features support for both take profit and stop-loss orders. These types of orders enable investors to more accurately manage their portfolios and ongoing trades.
For example, Phemex offers several take profit quick options, set at either 25%, 50%, 75% or 100% profit. As such, investors are able to cash out when they reach a particular profit, even if they're not actively managing their investments.
Phemex welcome bonus
It is clear that Phemex has high-flying plans to become a major actor in the crypto derivatives sector. As such, a Phemex review would naturally be incomplete without going through the Phemex welcome bonus.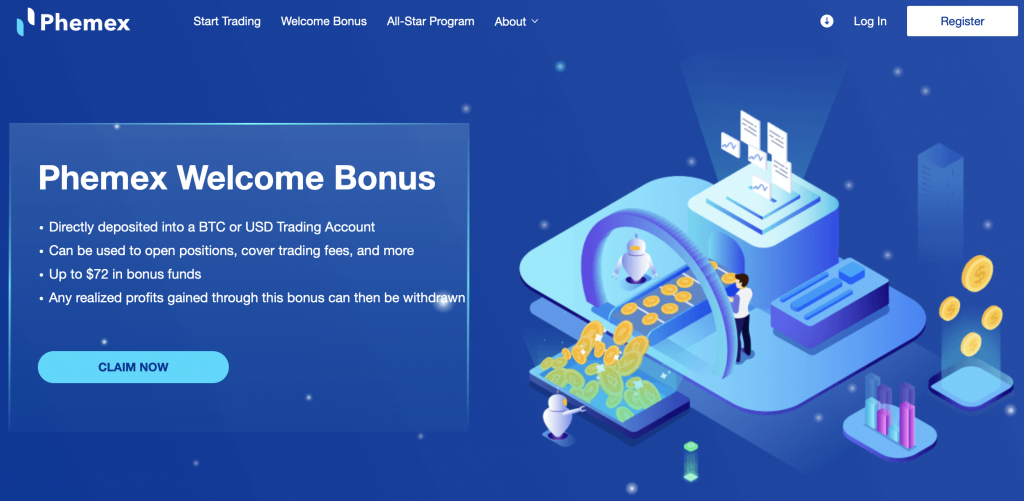 This welcome bonus offers up to $72 in bonus funds, and can be used for a variety of trading activities. For example, this includes opening positions, covering trading fees, and much more. The bonus deposits directly to a Bitcoin or USD trading account on Phemex. Additionally, any profits realized through the use of the bonus can be withdrawn.
With that said, the bonus is broken up into three different parts. These include a "registration bonus", a "social media bonus" and a "funding bonus". If you sign up to Phemex today using this link you can make sure to qualify and get the full $72 welcome bonus.
Is Phemex exchange safe?
One needs to touch on the topic of safety in a review of the Phemex exchange. The team behind Phemex was adamant that users' safety and security should come first. This is why Phemex uses a Hierarchical Deterministic Cold Wallet System (HDCWS) to get close to the type of security typically only found in cold wallet storage.

The team behind Phemex argues they took their expertise from Wall Street in developing the Bitcoin futures exchange. As such, it appears Phemex should be quite resilient against hackers or other malicious actors.
Additionally, the Phemex platform processes withdrawal requests three times per day. The exchange's operators and founders rigorously examine the withdrawals, to preemptively detect any malicious activity and act. This also draws on the platform team's existing Wall Street risk control experience.
Moreover, Phemex currently does not require any know-your-customer (KYC) checks. Instead, it is a completely anonymous crypto derivatives exchange. In extension, this means crypto traders can keep their personal details confidential.
In fact, all you need to start trading on the Phemex platform is to sign up with an email address and a password, and deposit some funds. One should not, however, that it is unclear how long this situation will last, as global crypto regulations tighten.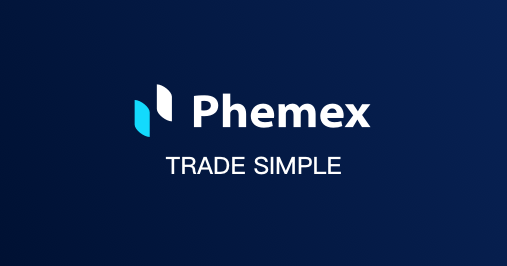 Phemex review summary
In summary, Phemex offers a lot of benefits and opportunities with relatively few drawbacks. The exchange's founders have a lot of experience with financial markets due to their executive careers on Wall Street.
Moreover, Phemex offers competitive trading fees and a lot of flexibility. The platform's crypto derivatives and Bitcoin futures are one of the hottest financial markets right now. Phemex also demonstrates strong growth since its inception late last year, and is aiming to become one of the definitive names in crypto derivatives trading.
With that said, there are some cons as well. The Phemex exchange is relatively new. This means that although it has not yet seen any hacks, this could potentially happen in the future. Moreover, the exchange does not feature crypto to crypto trading pairs – just crypto to fiat pairs such as Bitcoin USD.
Nevertheless, Phemex offers impressive capability, such as its stop loss and take profit features, as well as sub-accounts. Consequently, users get access to some of the same tools professional traders do. Those interested in crypto derivatives exchanges should explore Phemex today!