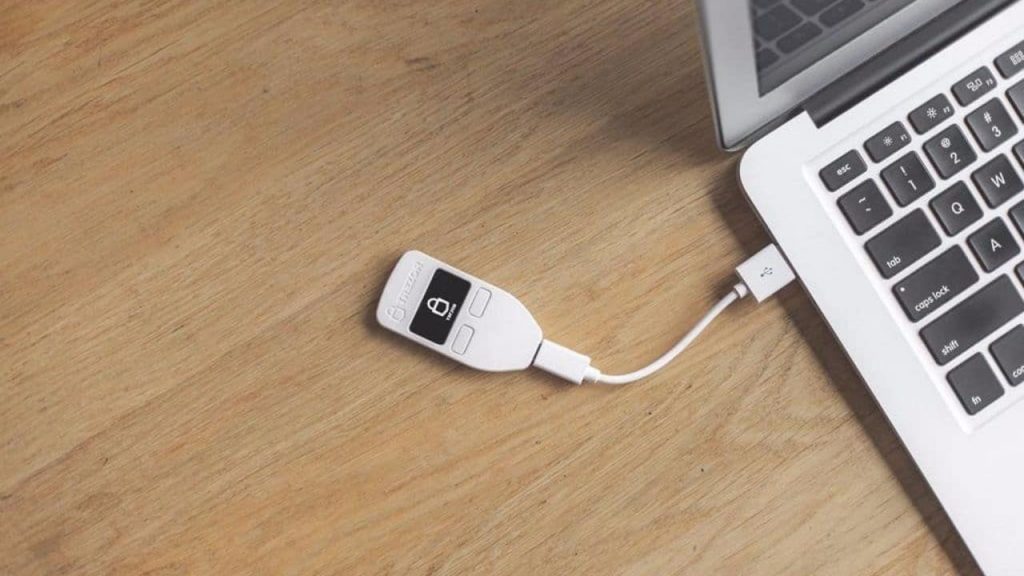 Hardware wallets are, hands down, the most convenient and popular wallets in the crypto market today. Blockchain wallet hardware are secure physical devices that store your private keys. The best part is that the wallet stores your coins offline, keeping them completely safe. On the other hand, when needed, you can simply log your wallet into the system and use your coins as required.
In this guide, we will:
Give you an introduction to cryptocurrency wallets.
Compare hardware wallet vs blockchain wallet.
Show you some of the more popular hardware wallets out there.
Tell you why blockchain hardware wallet should be high on your shopping list.
What is a blockchain wallet hardware?
In the cryptocurrency world, acquiring a bitcoin wallet will be the first step that you take. Your wallet is like your bank account that stores your private key and your public address. As you may be aware, cryptocurrencies are based on public-key cryptography. Your public and private keys are mathematically derived from each other. Your personal public address is nothing but a hashed version of your public key.
Alright, so how does it all work?
When someone sends your bitcoins, they will be sending it to your public address. Obviously, the coins will not be floating over to your address. Sending coins simply updates the record kept inside the immutable blockchain by reducing the coins in the sender's account and increasing the balance in the receiver's account.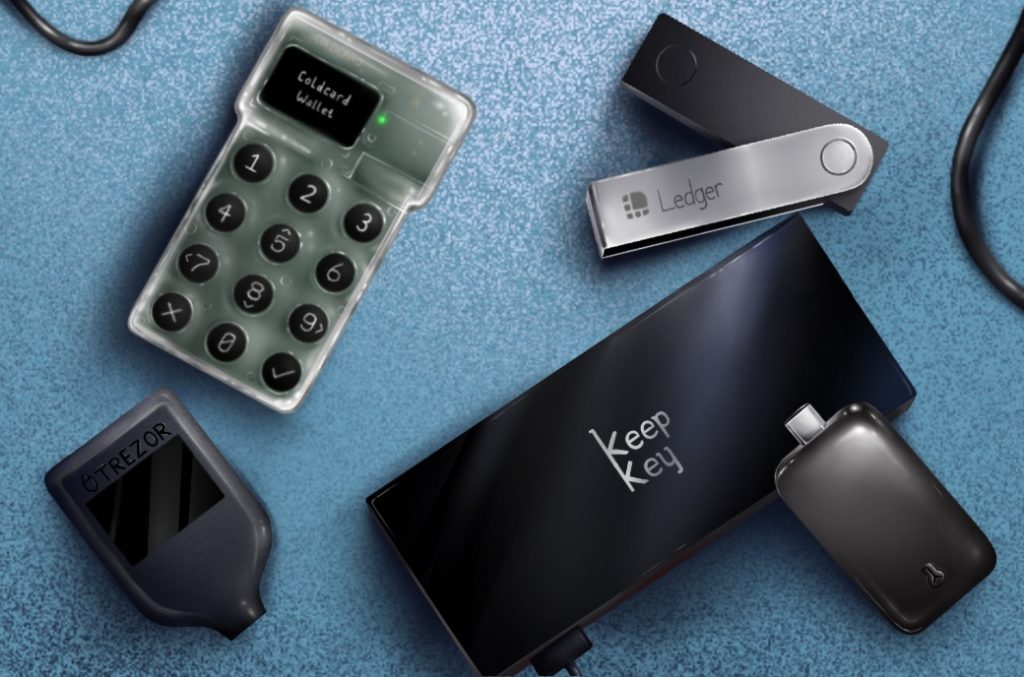 Your Bitcoin wallet is pretty much your interface to the Bitcoin network. Having said that, its nothing more than a fancy app that holds your private key for you.
Types of blockchain wallet hardware
When you attempt to classify blockchain wallets, they broadly fall into the following categories:
Hot Wallet: Wallet software that's directly connected to the internet. Exchange, mobile, and desktop wallets are all hot wallets.
Cold Wallet: Wallet software that's not connected to the internet. Hardware and paper wallets are cold wallets.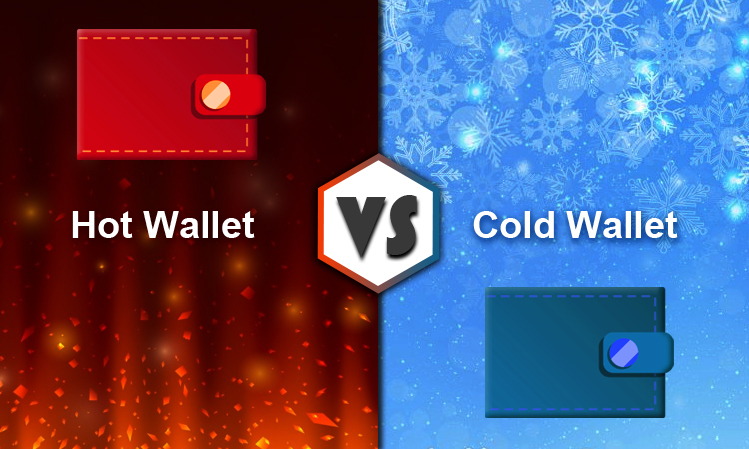 Hot wallets are extremely easy to use. Since they are already connected to the internet, transacting with your coins is almost as complicated as pressing a button. However, they are constantly at risk of being hacked or attacked.
Cold wallets, on the other hand, are completely offline, so you will need to port them on to the internet first to get access to your coins. However, while these are extremely inconvenient to use, they happen to be incredibly safe and secure.
Hardware wallets sort of bring you the best of both worlds. Along with being a safe, cold storage option, it also happens to be extremely straightforward to use. In essence, you are pretty much getting the best of both worlds.
Why blockchain hardware wallet – The Advantages
While we have touched on this topic a bit before, let's look at some reasons as to why blockchain hardware wallet should be on the top of your buying lists:
Your private keys will remain unexposed. During no event will you have to take your private key out of your hardware wallet. As such, it's completely safe and secure.
The pin that allows you to access the hardware wallet is encrypted. You and only you are in full control of your pin. In Ledger, if you enter the incorrect number three times the wallet goes through a hard factory reset. Trezor, on the other hand, wipes itself clean after 16 incorrect attempts. In both cases, you can restore your wallet with the recovery phrase.
Hardware wallets provide support to multiple cryptocurrencies at the same time.
Most viruses are designed to attack software. As such, hardware wallets are extremely effective against hardware wallets.
You can verify your transactions through the hardware wallet, negating the need to go online.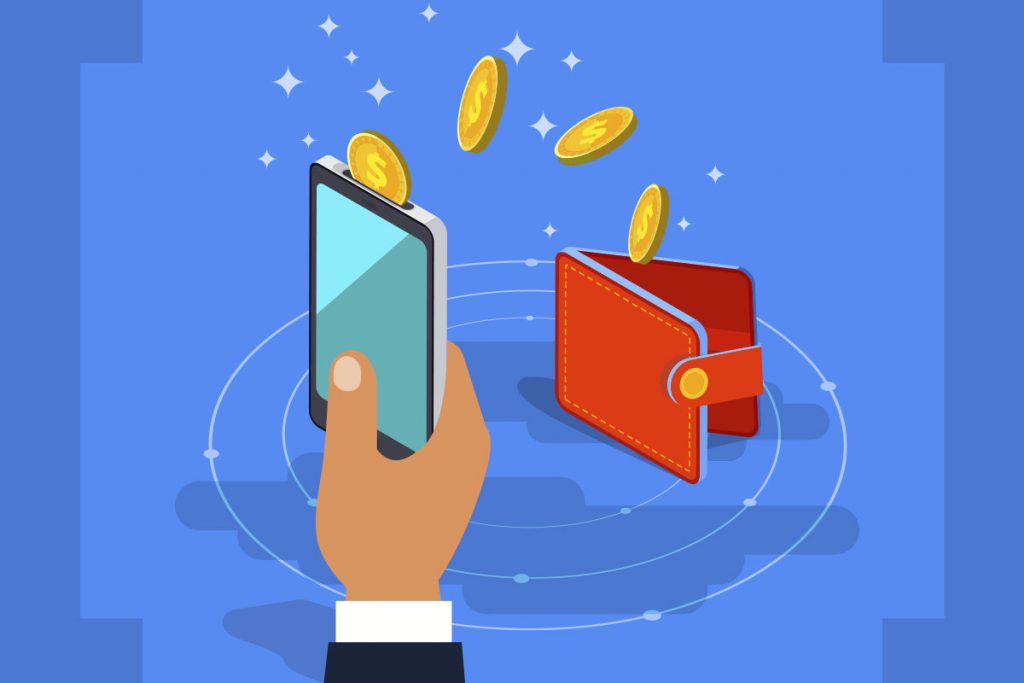 Blockchain wallet hardware – Best practices
Choose a solid pin. Make sure that it isn't easily recognizable and commit it to memory. If required, write it down and store them safely.
Every hardware wallet has a recovery sheet. Keep this sheet secure, since you will need this to recover your funds in the event of an emergency.
As with anything, don't put all your eggs in one basket. Instead of putting all the coins in one hardware wallet, you can simply divide it into two or more wallets.
It's very important to keep your wallet in a safe place. Since it's a physical object, it's subject to general wear and tear.
Blockchain wallet hardware #1: Ledger
Ledger is dominating the hardware wallet space. The Paris-based company was launched in 2014 and has a production facility in Vierzon (France) and offices in San Francisco. At the heart of their innovation lies a distinct operating system called BOLOS, which they either integrate into a secure chip for their wallets or a Hardware Security Module (HSM) for various enterprise solutions.
Ledger Nano S
The Ledger Nano S wallet, a product of a France-based startup, is a compact USB device based on a smart card. It's structure consists of brushed stainless steel and plastic. It is roughly the size of a small flash drive, measuring 98mm x 18mm x 9mm and weighing in at 16.2gm. It has an OLED screen on top which with the help of the two buttons you can check all the information there only.
It is a battery-less device that you need to connect to a PC or mobile device via USB port (connector type B). It is supported in Windows (7+), Mac (10.8+), Linux, as well as on Chrome OS and Android. When you want to send coins to someone, you just need to plug the device into your computer and enter your private pin number.
Note here that choosing a secure four-digit PIN is one of the first steps the Nano S will ask you to do. If you fail to give the correct pin thrice, the device wipes itself. Next, you need to backup your recovery phrase. This is a great feature that the device offers a 24-word recovery phrase which can be used to recover your account on another ledger device if it is stolen. Next, you install the Ledger Apps or integrate with the software wallets of your choosing.
Ledger is compatible with the following software wallets – Ledger Wallet Bitcoin, Ledger Wallet Ethereum, Ledger Wallet Ripple, Electrum, Copay, Mycelium, GreenBits, MyEtherWallet, and BitGo.
Ledger Nano S is priced at around $93 USD (~78 euro). If you have a large amount of cryptocurrency to keep, it is definitely well worth the investment.
Ledger Nano X
Nano X is the premium wallet offered by Ledger, which may very well be the best hardware wallet in the world. It offers superior security, due to its dual-chip architecture and has a bluetooth feature that allows users to use it with their phone, or laptop.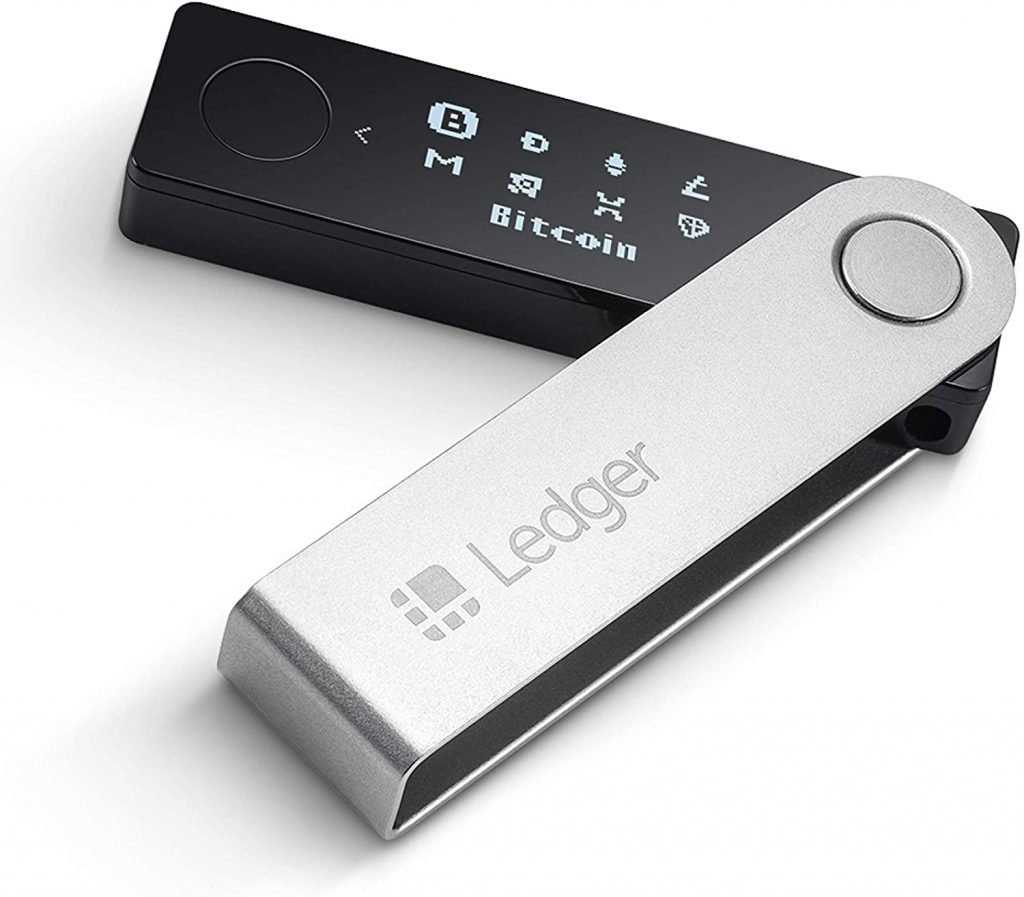 Ledger Nano X Features
Size: 72mm x 18.6mm x 11.75mm Weight: 34g.
Constructed from stainless steel and plastic.
Powered by the 100mAh battery.
Stores multiple cryptocurrencies at the same time.
Allows login to DEX like Binance.
Ledger Benefits
Screen, as well as the device, is protected by metal swivel cover
Third-party apps can run from the device and currently, there are 18 installable apps
Wallet recovery can be made without connecting it to a computer. The wallet can be recovered with its seed.
Supports over 700 cryptocurrencies, including Bitcoin, Ethereum, Ripple, Zcash, XRP and interestingly Fido U2F
It can simultaneously run 5 – 18 device applications.
Very affordable, giving a very high-value proposition
Compatible and easily integrates with several software wallets.
Blockchain wallet hardware #2: Trezor
Created by SatoshiLabs, Trezor is the world's first secure Bitcoin hardware wallet, and it is ideal for storing large amounts of bitcoins. Like Ledger Nano S, this is also a USB stick like device with an OLED screen on top for showing relevant information. Trezor cannot be infected by malware and never exposes your private keys, thus making it as safe as holding traditional paper money.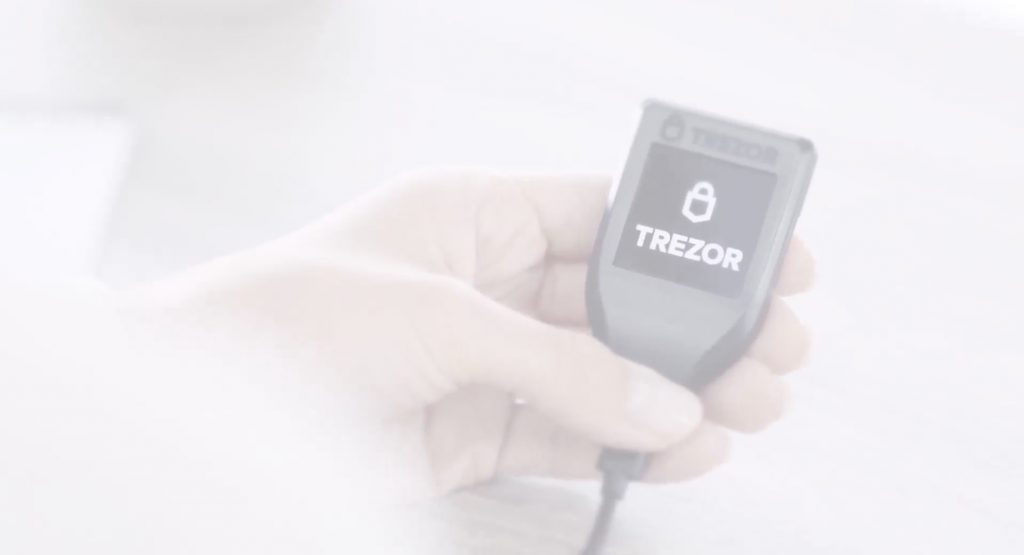 Trezor is open source, very transparent, and easy to use with all technical decisions that benefit from more comprehensive community consultation. Trezor has a very intuitive interface and is Windows, OS X, and Linux compatible. Trezor can connect to iOS and Android mobiles as well as tablets via USB port. It is best to use it via Google Chrome and Mozilla Firefox browsers for guaranteed support.
One of the few downsides of the Trezor wallet is that it must be with you if you want to send bitcoins. This makes Trezor best suited for investors, inactive savers, or people who want to keep large amounts of Bitcoin highly secure.
There are a lot of hot wallets you can use in conjunction with Trezor such as Trezor wallet, Mycelium, Electrum, Electrum-DASH, Etherwall, etc.
Though not as much as the Ledger Nano S, Trezor is very close in supporting a lot of crypto coins. Currently, the official site says that it supports about 689 coins, including the primary ones like Bitcoin, Ethereum, Dash, Litecoin, ZCash, etc. However, support for some popular coins like Ripple, Stellar or Monero, etc. are yet to be added.
Blockchain wallet Hardware: Trezor Features
Trezor gives you 100% control over your private keys. A 24-letter recovery seed backs up the entire wallet content. The seed is generated offline via the inbuilt random number generator and stays hidden from anyone over the internet.
Like Ledger Nano S, you must set up a PIN code while setting up your Trezor for the first time. Interestingly, on top of your 24-letter recovery seed, you can also add a further passphrase, acting as the 25th letter as an additional layer of security.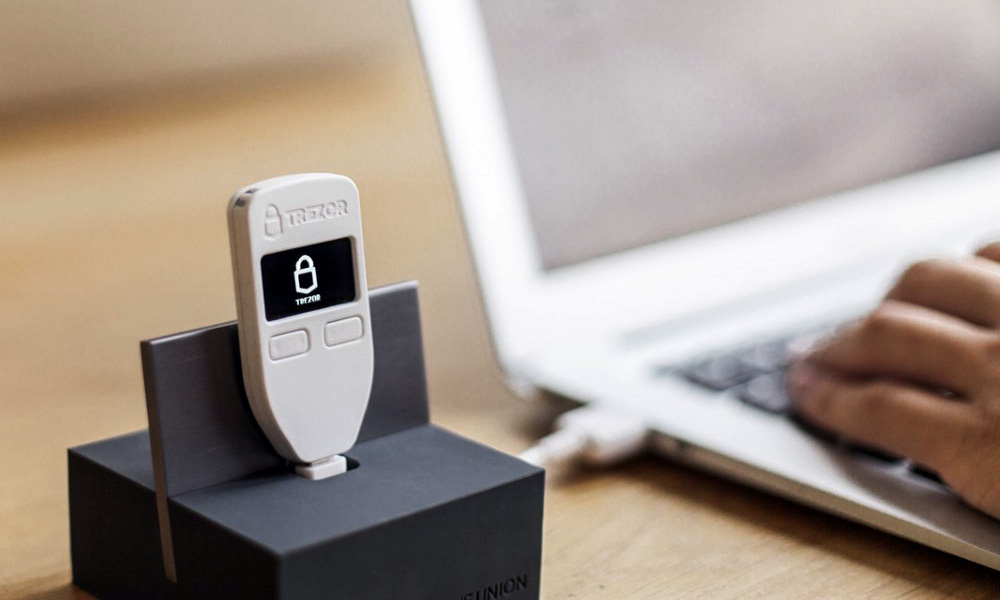 In terms of Trezor wallet fees, the only cost is the outlay of the device currently available to users from just €89.
The cheapest version of Trezor One White will put you behind by about €69.
The most expensive model, the Trezor Model T + Cryptosteel, is available for €229 (excluding VAT).
It offers a damage-resistant vault for recovery seeds alongside the newest Trezor wallet.
Trezor Benefits
Good security and privacy
It is a 100% cold storage
Easy to use a web interface,
Has an inbuilt screen
Open source software
It is beginner-friendly.
Blockchain wallet hardware #3: KeepKey
KeepKey is a US-based hardware wallet company founded in 2015 by Darin Stanchfield. In August 2017, ShapeShift, the Erik Voorhees-led exchange managed to acquire the wallet. Some features of the wallet are as follows:
Dimensions: 38 x 93.5 x 12.2 mm.
OLED screen: 256×64 3.12″ at the front.
Aluminum case on the back.
Transaction confirmation or cancellation can be made with a single button on top.
Must be connected to its Chrome App to operate.
KeepKey Supported Coins
Bitcoin
Bitcoin Cash
Bitcoin Gold
DASH
Dogecoin
Ethereum
Litecoin
ERC-20 tokens.
KeepKey Benefits
Large LCD makes user interaction simple.
Integrated with ShapeShift.
Built to withstand wear and tear.
Design is very user-friendly
Top-notch security.
The recovery cipher keeps the wallet secure.
Hardware wallet vs Blockchain wallet
Before we conclude this article, let's compare your hardware wallets to some of the more popular types of wallets in the space.
Hardware wallet vs Blockchain wallet – Hot Wallets
| | | |
| --- | --- | --- |
| | Hardware Wallet | Hot Wallet |
| Storage | Coins stored offline | Coins stored online |
| Key Exposure | Private key remains unexposed | Private key gets exposed upon using |
| Susceptibility | Difficult to hack | Easy to hack |
| Accessibility | Coins easy to access | Coins easy to access |
| Price | Expensive | Free to use |
Hardware wallet vs Blockchain wallet – Paper Wallets
| | | |
| --- | --- | --- |
| | Hardware Wallet | Paper Wallet |
| Storage | Coins stored offline | Coins stored offline |
| Key Exposure | Private key remains unexposed | Private key remains unexposed, till it gets ported online. |
| Susceptibility | Difficult to hack | Easy to hack |
| Accessibility | Coins easy to access | Coins difficult to access |
| Price | Expensive | Free to use |
Blockchain wallet hardware: Conclusion
So, there you have it. If you want to get into the cryptocurrency space, then you should absolutely get your hands on a hardware wallet. In the sections above, we have introduced you to the three most popular hardware wallets in the market – Ledger, Trezor, and KeepKey. Please do your own research, weigh all the pros and cons before you make your purchase!
If you want to know more about blockchain wallets, then click here.
On the other hand, if you want to get into the weird and wonderful world of blockchain technology and its several use-cases, join us at Ivan on Tech Academy. Our world-famous blockchain education courses have been carefully built to provide the best possible value in the shortest amount of time. Get your accreditation and position yourself favorably in the job market.